To show you an example of how PDQ Deploy can help you manage your network, consider the following basic scenario.
Let's say you are the IT manager for a small high school. You know that the Adobe Flash plug-in needs to be updated on most of the target computers used by your teachers, administrators, librarians, and students.
Here is how PDQ Deploy can help you solve this problem:
1.Check the PDQ Deploy Package Library for a prebuilt Adobe Flash package (or if necessary, you can create your own deployment package).
It's easier and faster to use a prebuilt package, so take a quick look at the Package Library online or in the PDQ Deploy Main Console window. In the Package Library you can find a package for the latest version of Adobe Flash. Import the Adobe Flash package into your system.
2.Choose the target computers where you want to deploy Adobe Flash.
Select the Adobe Flash package, then use Deploy Once to create a deployment. You can manually enter target computer names, or if your Windows network uses Active Directory (AD), you can browse AD from PDQ Deploy and select from there.
3.Deploy the package to update your target computers.
You are ready to deploy the Flash update to your target computers—click Deploy Now.
4.Review the results of your deployment.
You can check the results of your Adobe Flash install deployment in the PDQ Deploy Main Console window. View the overall results of the deployment under Deployment Details and under Targets, you can check the results for specific machines.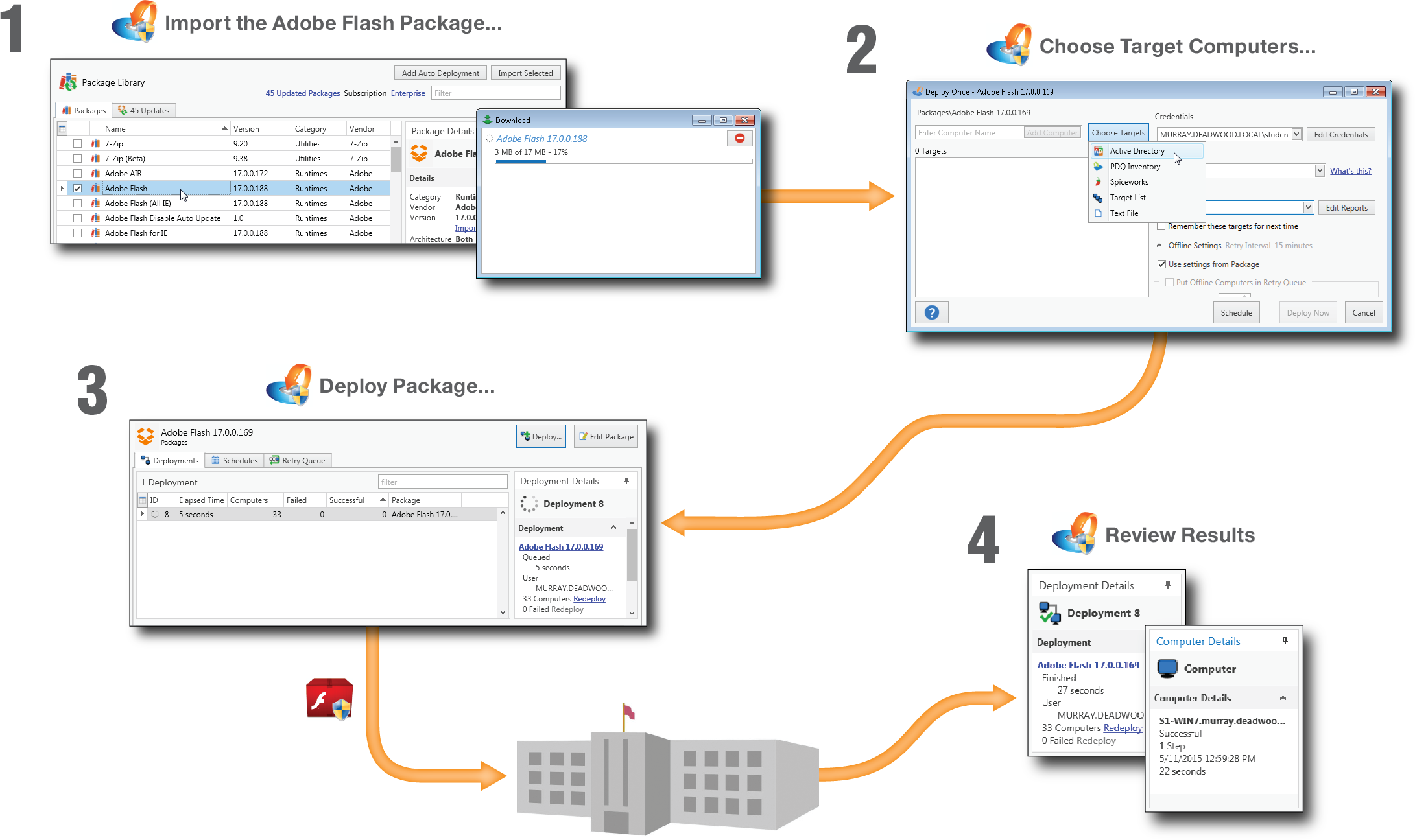 © 2016 Admin Arsenal, Inc. All rights reserved.
Admin Arsenal is a trademark of Admin Arsenal, Inc. All other product and company names are the property of their respective owners.
Help Version: 12.1.0.0