PDQ Inventory provides a robust reporting tool to access data about computers and their individual inventory.
Pro Mode is required in order to save changes to reports. Free mode can run any of the built-in reports or run new reports but any changes cannot be saved.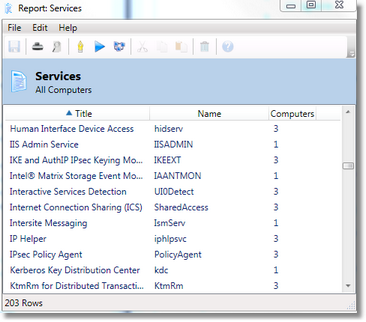 Report Types
| | |
| --- | --- |
| Type | Description |
| | Built with our easy report designer, selecting columns and filters. |
| | Create any type of report using standard SQL. |
PDQ Inventory comes with a number of pre-defined reports which can be customized or new reports can be created.
Reports can be viewed on screen, printed, or exported to a variety of formats.
Reports can be run against all computers in the system or against a particular collection, making it easy to narrow down the exact data you want.
PDQ Inventory Version 1.0.2 (beta 1) © 2011 Admin Arsenal