Use Item Appearance to customize the look of an item in the Main Console tree.
Select the item or folder you want to customize in the tree, then click View > Item Appearance (or right-click and select Item Appearance, or press Ctrl+Shift+F2).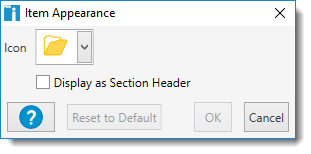 The options available in the Item Appearance window are shown in the following table:
| Option | Description |
| --- | --- |
| Icon | Use the drop down menu to select a custom icon. The top left icon in the list is the default icon for the item. |
| Display as Section Header | This adds highlighting to the item name in the tree to visually distinguish it from the other items. |
| Reset to Default | This removes all customization from the selected item. |
© 2021 PDQ.com Corporation. All rights reserved.
PDQ.com is a trademark of PDQ.com Corporation. All other product and company names are the property of their respective owners.
Help Version: 19.3.83.0