This window is used to edit the properties of a package.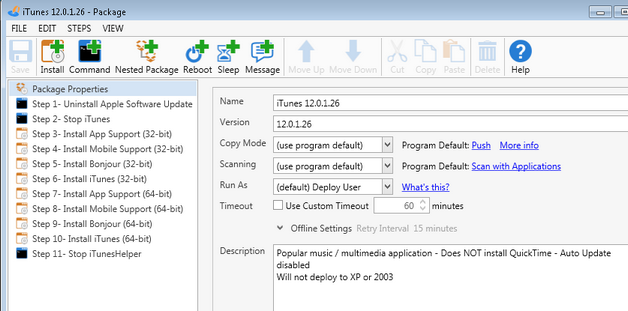 Package
| | |
| --- | --- |
| Item | Description |
| Name | Give the package a name as it will be known within its folder. |
| Version | |
| Copy Mode | Choose the copy method to use for copying files. Program Default will use the method as selected in the performance preferences. Pull and Push are used to override the default for this package. |
| Scanning | Scan all computers with PDQ Inventory after a successful deployment. Setting this option for the package will override the program wide setting in deployment preferences. |
| Run As | Run deployment as a particular user. See Credentials for a list of user options to run deployment as. |
| Timeout | Set a timeout for this package to override the system timeout in the preferences. |
| Description | A free-form description which can be used to keep extra details about the package. |
Steps
Each individual step in the package will be listed in the order they will be executed.
Note: Free Mode only has one Install step. Pro mode can create multiple steps.
Common Step Properties
When in Pro Mode each step has a set of common properties that can be set individually.
Types of Steps
| | |
| --- | --- |
| Step | Description |
| | Execute commands from target computer (from within cmd.exe). Remember that any remote command must be able to run silently. If any user input is required (for example having to confirm Yes with hitting the Y key) the command will ultimately timeout unless the Run As option is set to Deploy User (Interactive) or Logged on User. |
| | Installs software using one or more package files. A variety of install file types can be used including scripts which can perform arbitrary tasks. |
| | Execute another package. |
| | Reboots the target computer and waits for it to come back online. |
| | Sleep for a fixed number of seconds between steps. |
| | Uses msg.exe on the target computer to display a message. Messages may be acknowledged by users by clicking OK. |
PDQ Deploy Version 5 (Release 2) © 2015 Admin Arsenal